Jill Furmanovsky: No Music No Life Exhibition opens in London on Nov 17
Work includes Pink Floyd, Bob Marley, Oasis, The Police and never before seen shots from a career spanning 50 years. Jill has created a short film with Noel Gallagher for the exhibition.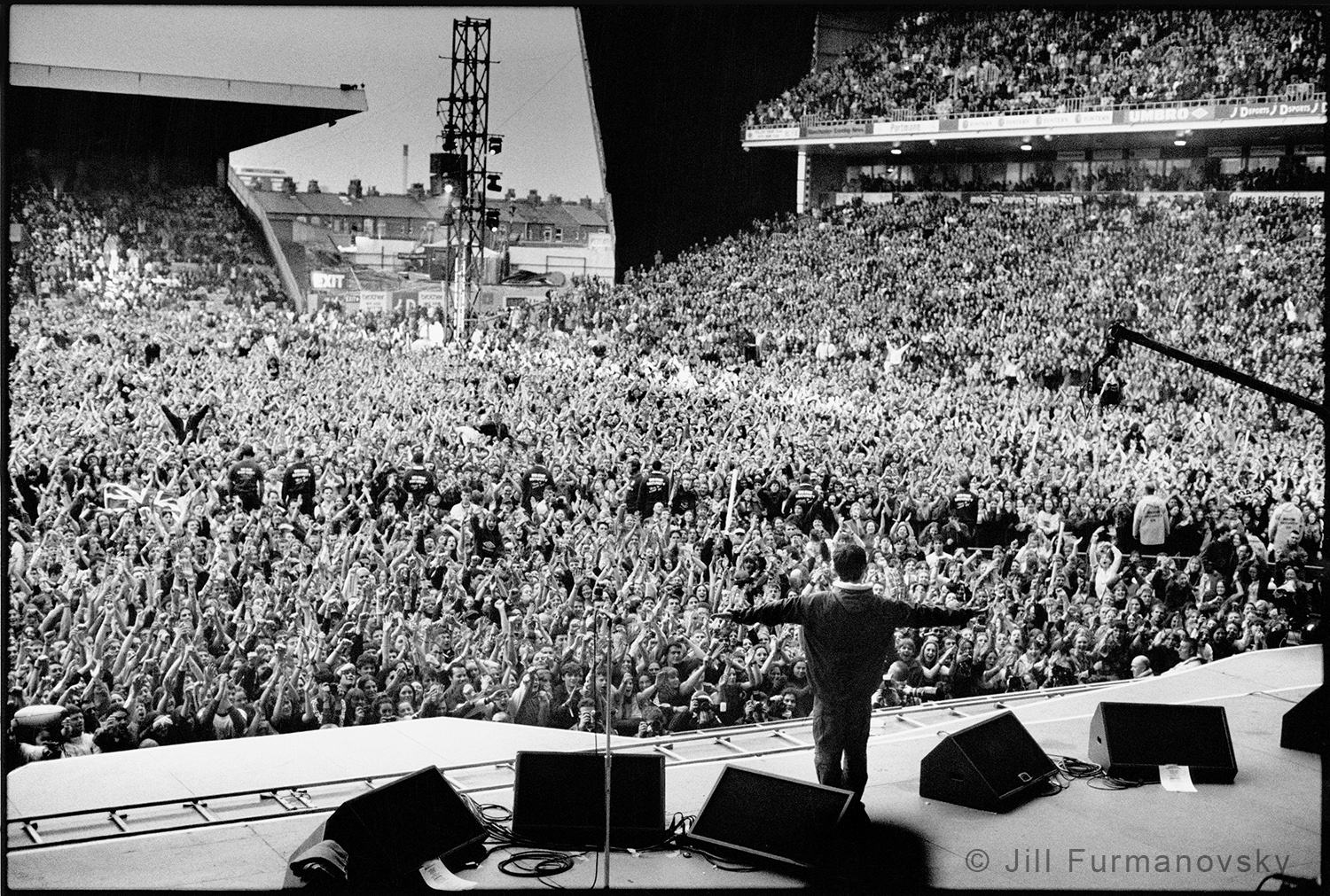 For the last 50 years, Jill Furmanovsky has photographed the very best that music has to offer. Her work has documented the rise of some of the most legendary rock artists including Pink Floyd, Bob Marley, Oasis, and The Police, and graced album covers, musicmagazines, and books to become recognised all over the world.
Rockarchive.com in collaboration with Proud Galleries proudly present Jill Furmanovsky: No Music No Life, an exhibition that at its heart exudes Jill's love of music and her unique ability
to capture its vibrancy and spirit throughout her career. The exhibition showcases some of the most celebrated shots from Jill's extensive archive including images of Amy Winehouse, Pink Floyd, Chic, Joy Division, Miles Davis, and Leonard Cohen, with the centrepiece, her stunning award-winning portrait of Charlie Watts.
A whole section of the exhibition is dedicated to Jill's unique and intimate collection of Oasis images that reflect her close relationship with the band during their zenith. A short film has been created especially for the exhibition, with Jill & Noel Gallagher discussing her work and unique relationship with the band over those unprecedented years.
Highlights include Chic's electrifying performance at the Hammersmith Odeon in 1979, Oasis at Maine Road, with Noel Gallagher's arms outstretched to an adoring crowd in 1996, and Amy Winehouse, beautifully captured backstage at the Union Chapel the same year.
Prints from the exhibition will be available to buy, including new limited editions especially created for the show as well as a range of books and other merchandise. In addition to Jill's prints a small selection of other work from Rockarchive will also be on show during weekends in the gallery basement.
"I feel blessed to have photographed so many extraordinary musicians over my 50-year career. Their music formed a soundtrack to my life and has inspired my work. This exhibition at Proud is homage to their magical gifts. 'No Music No Life' says it all." says Jill Furmanovsky.
The exhibition is being sponsored by MPB and Fotospeed. MPB are the largest globalplatform to buy, sell and trade used photo and video kit.
Gallery Details
Proud Galleries is open Tuesday – Saturday, 11:00 – 18:00 and is located at 32 John Adam Street, London, WC2N 6BP.
For interview opportunities or gallery media access, please contact Starscream Communications.
Gallery - all images copyright and must use the credit/caption "Jill Furmanovsky, Rockarchive.com".
Quotes
"Her legacy is profound." Gail Buckland (guest curator and author of 'Who Shot Rock &Roll - Brooklyn Museum)
"She reveals you to yourself." Nile Rodgers (Chic)
"Through the honesty of Jill's work, we are brought closer to the frailty and humanity ofcelebrity." (Neville Brody, designer of The Face Magazine.)
"Jill is one of my favourite photographers of all time." Jools Holland
About Jill Furmanovsky
Rockarchive founder, Jill Furmanovsky, was born and brought up in Rhodesia (now Zimbabwe). Her parents moved to London in 1965 when she was eleven. As a teenager, she became a Beatles fan and often stood outside Abbey Road Studio hoping to catch sight of them. Her first rock shot was of Paul McCartney and two school friends taken on a Kodak Instamatic outside of his home in St. John's Wood.
Jill studied textile and then graphic design at the Central School of Art and Design in London. In January 1972, whilst on a two-week block course in photography, she had a lucky break when she was offered a job as in-house photographer for premier rock venue, The Rainbow Theatre. From then on, she took live shots and features for the music press of the day of the 1970's and 80's, including NME, Melody Maker, Sounds, Smash Hits and The Face.
In the 1990s Jill became the main photographer for Oasis.
Musicians photographed in her 50-year career include many of the biggest names in rock: Pink Floyd, Bob Marley, Eric Clapton, Led Zeppelin, The Clash, The Jam, Blondie, The Police, The Pretenders, Bob Dylan, Bjork and Oasis are but a few. She also directed a video for Oasis and The Pretenders.
Jill's book 'The Moment: 25 Years of Rock Photography' (1995) is a seminal work in the genre.
'Oasis - Was There Then: A Photographic Journey' (1997) followed. The book 'Oasis at Knebworth' (2021) was on the Sunday Times best seller list. Jill curated and contributed to Pink Floyd's 50th anniversary book for The Dark Side of the Moon (2023).
Jill has won many awards for her music photography including The Jane Bown Observer Portrait Award (1992) and 'Woman of the Year' for Music and Related Industries (1988).
Jill celebrated her 50th year photographing rock bands professionally in January 2023. She marked this with a highly acclaimed major retrospective exhibition 'Photographing the Invisible' that was seen by thousands of people at Manchester Central Library. A documentary about her remarkable archive, 'The Invisible Photographer' has a provisional release date of Spring 2024.
Jill Furmanovsky is the founder of the rock photography collective www.rockarchive.com that is celebrating its 25th year in 2023.About Rockarchive
The Rockarchive collective of music photographers was founded in 1998 by Jill Furmanovsky, who was inspired by the world-renowned Magnum Photo Agency. After shooting some of the biggest names in rock history, Jill wanted to make her work, and that of other music photographers and visual artists, more accessible for fans and collectors to own.
To launch the collective, Jill selected 30 classic black and white images from her (then) 30- year archive to make into an edition of 30 darkroom prints. Edition 30/30/30 as it became known, was the first collection from Rockarchive.
Since then, the archive has grown in volume and stature and now publishes over 1000 images by more than 100 photographers and graphic designers. As well as producing and selling limited edition prints, Rockarchive now also curates and designs exhibitions for galleries and public institutions, both in the UK and across the world.
Rockarchive's philosophy is to accord dignity and recognition to the art of music photography and to maintain the rights of its practitioners. However, the long-term aims are wider: to become a valuable historic resource, to promote lesser-known work by high- profile photographers, to showcase unknown but important images, and to promote the work of up-and-coming photographers.
Whether capturing the spirit of a live show, collaborating directly with musicians to create unforgettable record covers, or shooting timeless documentary images, Rockarchive's distinguished contributors are responsible for many of the world's most enduring rock & roll images. Look closely at the pictures, read the captions, and you will suddenly find yourself in that moment. That is the power of music photography at its best.
About Proud
Proud Galleries was founded in 1998 by Alex Proud. The gallery was originally established in Camden Town, an area that sits at the heart of London's most vibrant artistic and music scenes. In its early years, Proud Galleries gained recognition for its focus on rock and roll and pop culture photography. Over time, it has expanded its presence in London and beyond, becoming known for its eclectic exhibitions, covering a wide range of subjects from music and fashion to street photography and contemporary art. Today, Proud Galleries continues to play a significant role in the popularisation of pop culture photography in the contemporary UK market.