Kii Audio announce the innovative Kii SEVEN Wireless Music System
Featuring Active Wave Focusing, the Kii SEVEN combines high-end audio with cutting-edge smart technology.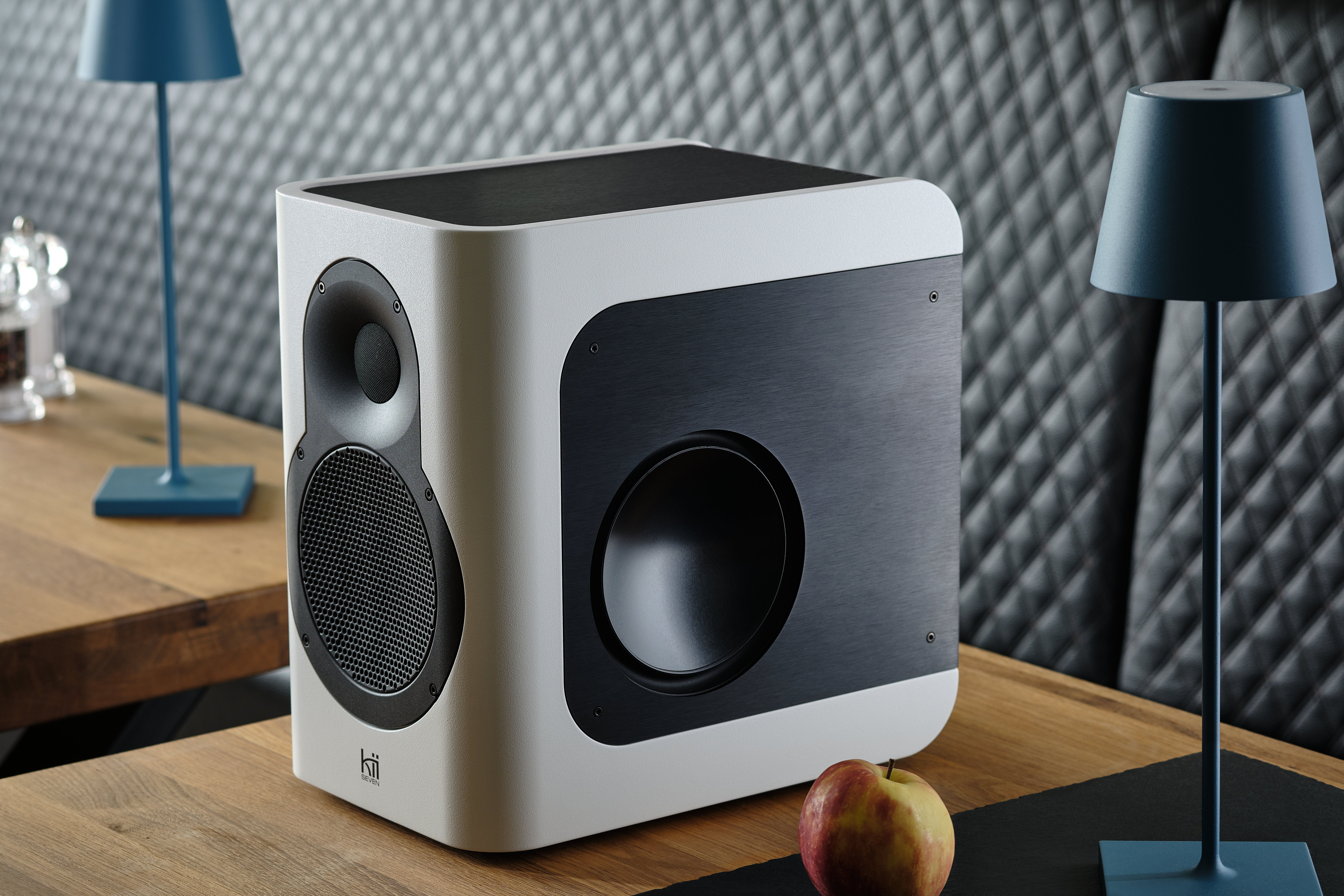 Building upon the success of the Kii THREE, Kii Audio introduce the Kii SEVEN Wireless Music System, available early 2024 for €3,795 / £3,495 / $3,895 (Solo Speaker), €7,590 / £6,990 / $7,790 (Stereo Pair).
Since 2015, Kii Audio have dedicated themselves to delivering innovation, quality, and the ultimate user-experience with their products. The new Kii SEVEN Wireless Music System is no exception, combining high-quality audio together with intuitive smart functionality to offer a versatile and user-friendly experience.
Designed from the ground-up to deliver exceptional sound quality. Unlike many traditional smart speakers, the Kii SEVEN has been designed by Kii Audio's engineers as a cardioid speaker, thereby significantly reducing the impact of room acoustics. Thanks to its Active Wave Focusing, the new Kii SEVEN delivers detailed separation and excellent musicality; audiophile-grade audio that faithfully captures the essence of your favourite music.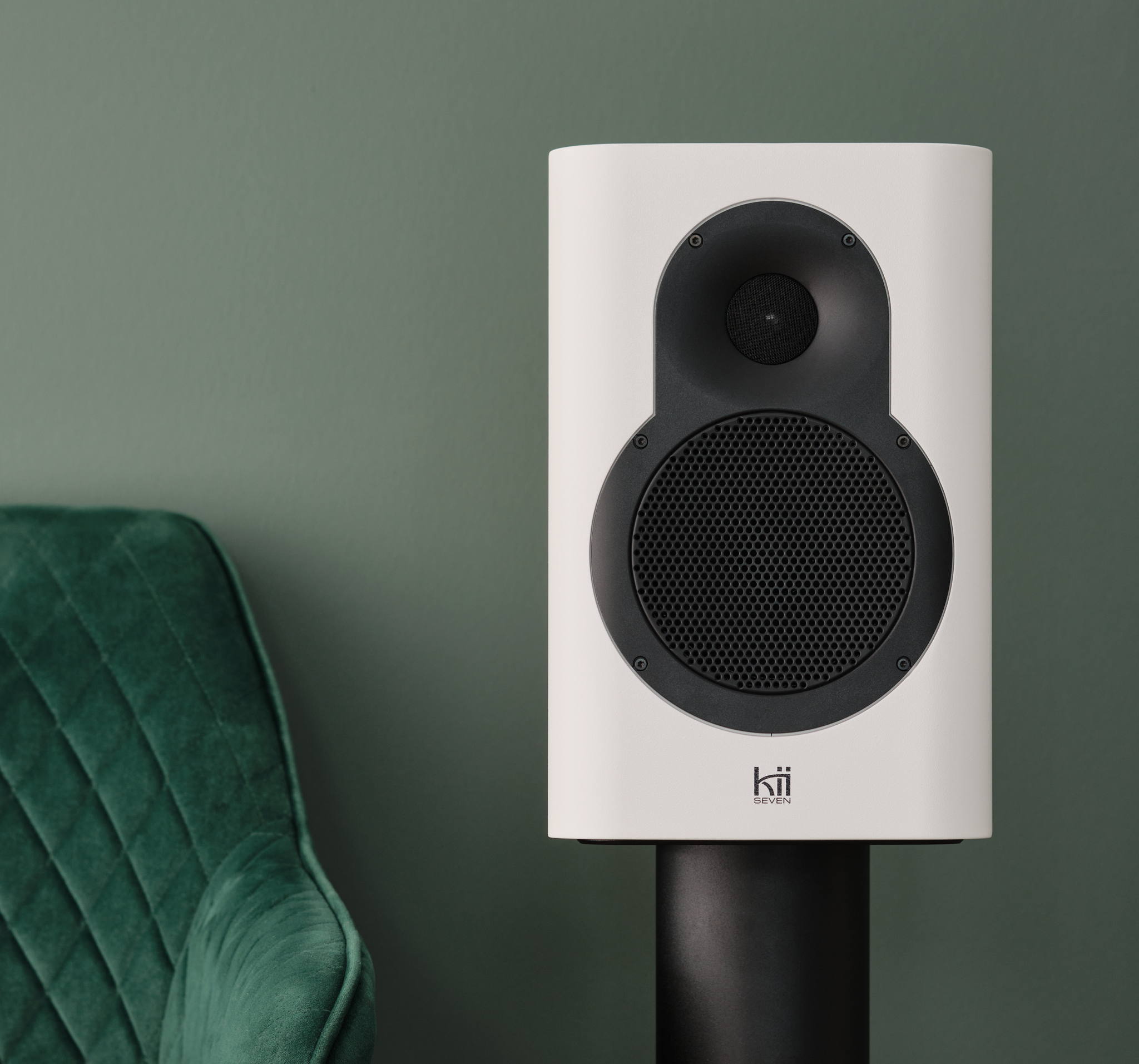 Instead of just splitting the spectrum into bands, as is done with traditional crossover filters, Kii Audio's Active Wave Focusing filters force the specially positioned drive units in the Kii SEVEN to create a completely coherent wave front, that is only emitted towards the listener. By utilising Kii Audio's unique Active Wave Focusing Technology, the Kii SEVEN ensures perfect time alignment over the full frequency spectrum.
In addition it equips the Kii SEVEN with a Cardioid Sound Dispersion pattern down to the low-mid and bass frequencies, providing even and highly detailed bass and significantly reduced acoustic interaction with the room.
Seamlessly integrating with mobile devices, the Kii SEVEN makes it incredibly easy to access a range of useful features. From streaming playlists to controlling playback in multiple rooms, the Kii SEVEN has been designed to marry convenience with cutting-edge technology. Thanks to the versatile Kii HOME App, whether you have one Kii SEVEN or a dozen, you are able to easily customize acoustic settings for up to twelve separate zones in your home.
The Kii Audio Kii SEVEN will be available early 2024, priced €3,795 / £3,495 / $3,895 (Solo Speaker), €7,590 / £6,990 / $7,790 (Stereo Pair).
Kii Audio will be showcasing the Kii SEVEN at the UK Hi-Fi Show Live (Room 260/261) at Ascot Racecourse from 29th September - October 1st
SPECIFICATION:
2 x 6.5-inch Woofer
1 x 5-inch Midrange
1 x 1-inch Custom Wave-guided Tweeter
Amplification: 600 Watt
Active Wave Focusing Crossover filter - Cardioid Dispersion
Frequency response: -3dB: 40Hz, 100Hz-10kHz: +/- 0.5dB, 10kHz - 20kHz: +/- 1dB
Integrated Tone Control
Phase Response: Minimum Phase or Minimum Latency
Driver Protection Limiters
Inputs: XLR and TRS, AES/EBU, KiiLink/KiiCONTROL, WiFi, Bluetooth, DANTE
Airplay 2: Yes
Roon Ready: Yes
Hi-Res Support: ≤ 24-bit / 192kHz
Colours: Fine Touch White / Fine Touch Dark Grey
Dimensions (WxHxD): 20 cm x 31 cm x 31 cm / 8-inch x 12.2-inch x 12.2-inch
Weight: 14kg (30lbs)
For further information, please visit: https://kiiseven.com
HI-RES IMAGE DOWNLOADS: