Qobuz adds THX® Spatial Audio for Music support. Debuts exclusive tracks from Dinosaur Jr., Anat Cohen, and Circuit Des Yeux.
August 11, 2022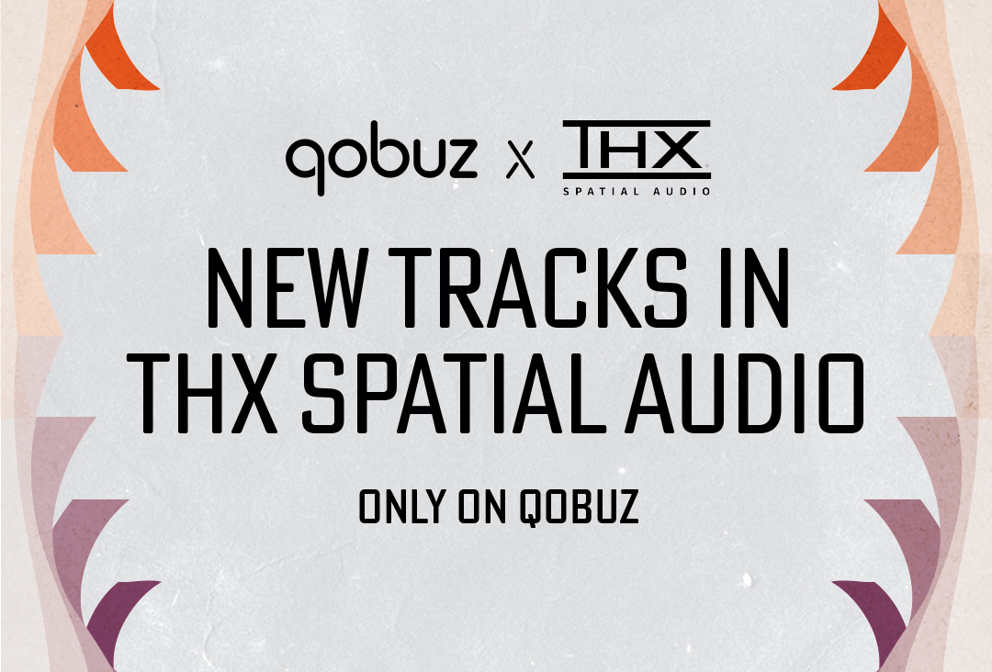 Paris, August 11th 2022: Acclaimed artists, Dinosaur Jr., Circuit Des Yeux, and Anat Cohen have teamed up with Qobuz, the Hi-Res streaming and download platform, to release new 24-bit tracks mastered in the THX Spatial Audio for Music format.
THX Spatial Audio for Music creates an immersive 360° soundstage around you when listening through headphones. The experience enhances subtle details, placing you in the middle of your favourite music, with rich sound and true-to-life acoustics that create an immersive 'live' feeling. Combining the Qobuz standard of 24-bit Hi-Res audio clarity with THX Spatial Audio for Music technology gives the listener the feeling of being in a space with the very artists themselves.
Anyone with a pair of headphones can listen to music featuring THX Spatial Audio for Music on Qobuz; no special hardware is required to enjoy the experience.
'Whenever You're Ready' (original performed by The Zombies) performed by Dinosaur Jr., 'Double Dare' by Circuit des Yeux (originally performed by Bauhaus), and 'Calling Vic Juris' from Anat Cohen were all recorded and mastered with the spatial audio experience in mind.
Dan Mackta, Managing Director of Qobuz USA, says: 'The ease with which Qobuz users can experience the THX Spatial Audio for Music tracks, and the fact that it is available as lossless Hi-Res, mean the format compliments our platform perfectly. The artists that are providing these exclusive spatial mixes are eclectic, acclaimed and are a great fit for the Qobuz audience.'
'THX is pleased to work with these talented Qobuz musicians to bring the artists' vision of deep and true audio immersion to fans.' said Kasson Crooker, THX Spatial Audio engineer, and musician in his own right. 'As an artist and an engineer, I am always interested in deepening the experiences music can evoke. THX Spatial Audio is a phenomenal immersive technology that we are thrilled to bring to these creative musicians. to support them in heightening their creativity and connection to their audiences.'
For more about THX Spatial Audio, please visit: https://www.thx.com/thx-spatial-audio-content/
Listen to 'Whenever You're Ready' by Dinosaur Jr. in THX Spatial Audio and you'll hear crunchy overdriven guitars and unique movement within the song for a satisfying, dynamic, immersive listening experience: qob.uz/thx-dinojr
Listen to 'Calling Vic Juris' by Anat Cohen to hear another dimension of THX Spatial Audio–that creates an extreme sense of intimacy and approachability: qob.uz/thx-anatcohen
Listen to 'Double Dare' by Circuit des Yeux to experience the all-enveloping, concert-hall-like immersive drama that she evokes with THX Spatial Audio: qob.uz/thx-cdy
Haley Fohr of Circuit des Yeux said of recording 'Double Dare': 'Double Dare' is a song filled with immense power. Listening to it helps decimate my fear. My favorite part about the CdY interpretation of 'Double Dare' is the way Whitney (Johnson) represents the screeching guitar part with a viola and overdrive pedal. The way the harmonics and feedback bounce and resonate around in THX Spatial Audio feels like being in the eye of a tornado. If 'Double Dare' is an anecdote to fear, this cover in THX Spatial Audio ups the dosage.'
Anat Cohen said of recording 'Calling Vic Juris': 'I recorded 'Calling Vic Juris' with Gilad Hekselman, a song that he wrote in honor of the great jazz guitarist Vic Juris who passed away in 2019. Vic was a wonderful musician and person who inspired many listeners, students and colleagues including myself and Gilad. We recorded the song as an acoustic duo and then added layers of clarinet and guitar. The THX Spatial Audio format amplifies the building momentum heard as the track progresses, especially ~3.5 minutes in when the clarinet tracks soar with and above the multiple layers of guitars. With this audio format I could express the influences of both the acoustic and electric worlds we breathe. I was grateful to work on this project alongside THX and Qobuz, two companies committed to providing a high-quality music listening experience, allowing us to bring our intimate studio experience directly to the ears of listeners. I would like to thank Oded Lev-Ari for his expert ears and wisdom. And of course - Gilad Hekselman, a musician I love collaborating with on any occasion.'
Support for THX® Spatial Audio for Music continues the partnership between Qobuz and THX Ltd. initiated with the promotional offer available with the Onyx DAC. Any purchase of the THX Ltd. Onyx DAC comes bundled with 3 months of Qobuz subscription, making seamless plug-and-play 24-bit Hi-Res listening more accessible to music lovers than ever before.
The debut of these THX Spatial Audio tracks follow previous Qobuz exclusive releases with Christian McBride, Zappa Records, Mercury KX, Tower of Power, and more, to solidify Qobuz's reputation as the destination for true music lovers who want their streaming service to care about the same artists, details, and quality that they value. The new tracks join other Qobuz offerings, such as digital liner notes, exclusive deep-dive essays, and artist-curated playlists, to give it a truly immersive feel.
Starscream Communications
About Qobuz
Founded in 2007, a pioneer of high-quality sound, Qobuz is the French music streaming and download service that meets the needs of demanding music lovers and audiophiles. Available in 25 countries around the world, in Europe, USA, Australia, New Zealand, Latin America and Japan (Hi-Res download service only). Qobuz offers an exceptional range of exclusive editorial content written by a team of experts. With its catalogue of more than 80 million tracks, Qobuz also has the richest choice of high-resolution (Hi-Res) references on the market. Qobuz is licensed for Hi-Res audio by the Japan Audio Society (JAS). For more information, visit qobuz.com
About THX Ltd.
Founded by legendary filmmaker George Lucas in 1983, THX Ltd. and its partners provide premium entertainment experiences in the cinema, the home and on the go. For more than 35 years, THX has expanded its certification categories beyond studios and cinemas to consumer electronics, content, automotive systems, and live entertainment. Today, THX continues to redefine entertainment, providing exciting new technologies and assurance of experiences which provide consumers with superior audio and visual fidelity and ensure an artist's vision is truthfully delivered to audiences worldwide. THX Ltd. is owned by Razer and operates as a fully independent subsidiary. For more information visit THX.com, find us on Facebook, Instagram, and follow us on Twitter.
For further information about THX Onyx, please visit: www.thx.com/onyx.
THX, THX Onyx, Spatial Audio, and the THX Logo are the property of THX Ltd., registered in the U.S. and other countries. All other trademarks and copyrights are the property of their respective owners.