Streets of London launch homeless prize draw with the help of Coldplay, Stormzy, Florence + The Machine and more
Head to Vegas to see Duran Duran or meet Coldplay in London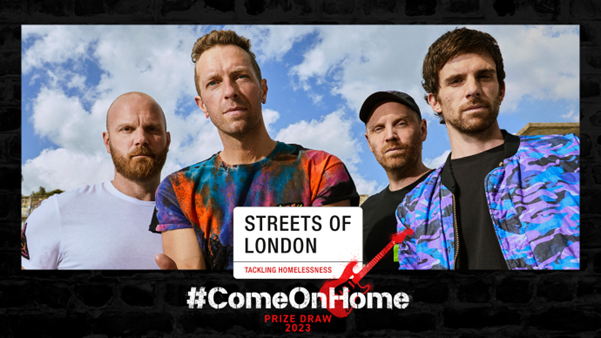 PRIZE DRAW
Some of the biggest names in music are supporting Streets of London's #ComeOnHome Prize Draw 2023, raising money to help people who are homeless in London.
Artists supporting the campaign include Arctic Monkeys, Bastille, Coldplay, Duran Duran, Florence + The Machine, Frank Turner, Freya Ridings, Lewis Capaldi, Mark Knopfler, Paul McCartney, Stormzy, The Vaccines and The 1975.
With a week still to go, a Gibson Les Paul guitar signed by Streets of London ambassador Mark Knopfler has already raised nearly £25,000.
Other prizes on offer include a chance to meet Coldplay, a trip to New York to see Bastille, a trip to Las Vegas to see Duran Duran, Florence + The Machine VIP tickets & signed boxset, and a personalised signed Revolver super-deluxe boxset from Sir Paul McCartney.
Entry costs £5. The prize draw is now open and will come to an end at midnight (UK time) on Sunday 21st May.
People can enter at https://www.crowdfunder.co.uk/comeonhome
HOMELESSNESS IN LONDON
Rough sleeping has risen by more than a third in the UK's capital in the last year, so help for homeless people is needed more than ever right now.
The cost-of-living crisis is pushing more and more people into homelessness, with rising prices forcing people who have never slept rough before onto the streets for the first time.
Streets of London (registered charity 1155242) funds specialist support for people who are homeless in London and is raising money with this unique prize draw.
Streets of London's director Ian Steuart Fothringham says
"The money raised through this prize draw will allow us to provide funding to multiple projects across London that offer vital immediate help for homeless people as well as longer-term support so that people can escape the streets for good."
"We would like to thank all of the artists who have generously donated prizes, as well as the team at Crowdfunder, Grafikroom, Starscream Communications and everyone else who has helped to make it happen."
"A big thank you to everyone who enters the prize draws. With your support, we hope to raise a significant sum that will make a real difference for people who are homeless in the capital."
Streets of London ambassador Mark Knopfler and Gibson guitars have donated a signed Heritage Cherry Sunburst Gibson Les Paul Classic guitar to this prize draw fundraising campaign.
For more information, images and interview opportunities,
please contact Starscream Communications.
About Streets of London
Streets of London funds specialist support for people who are homeless in London, and raises awareness about homelessness.
Using our knowledge of the sector, we target funding to projects where we know the money will make a real difference, so that homeless people have the support they need to get back on their feet and leave homelessness behind for good.
Thanks to the generosity of our supporters, since 2015 Streets of London has made grants totalling more than £750,000 to fund some fantastic projects that offer life-changing support to homeless people in London.