The new 2022 edition of the Triangle AIO3 wireless speaker
Triangle has partnered with Danish brand Gabriel to manufacture speaker finishes and has helped to create a stunning yet neutral Scandinavian-style finishes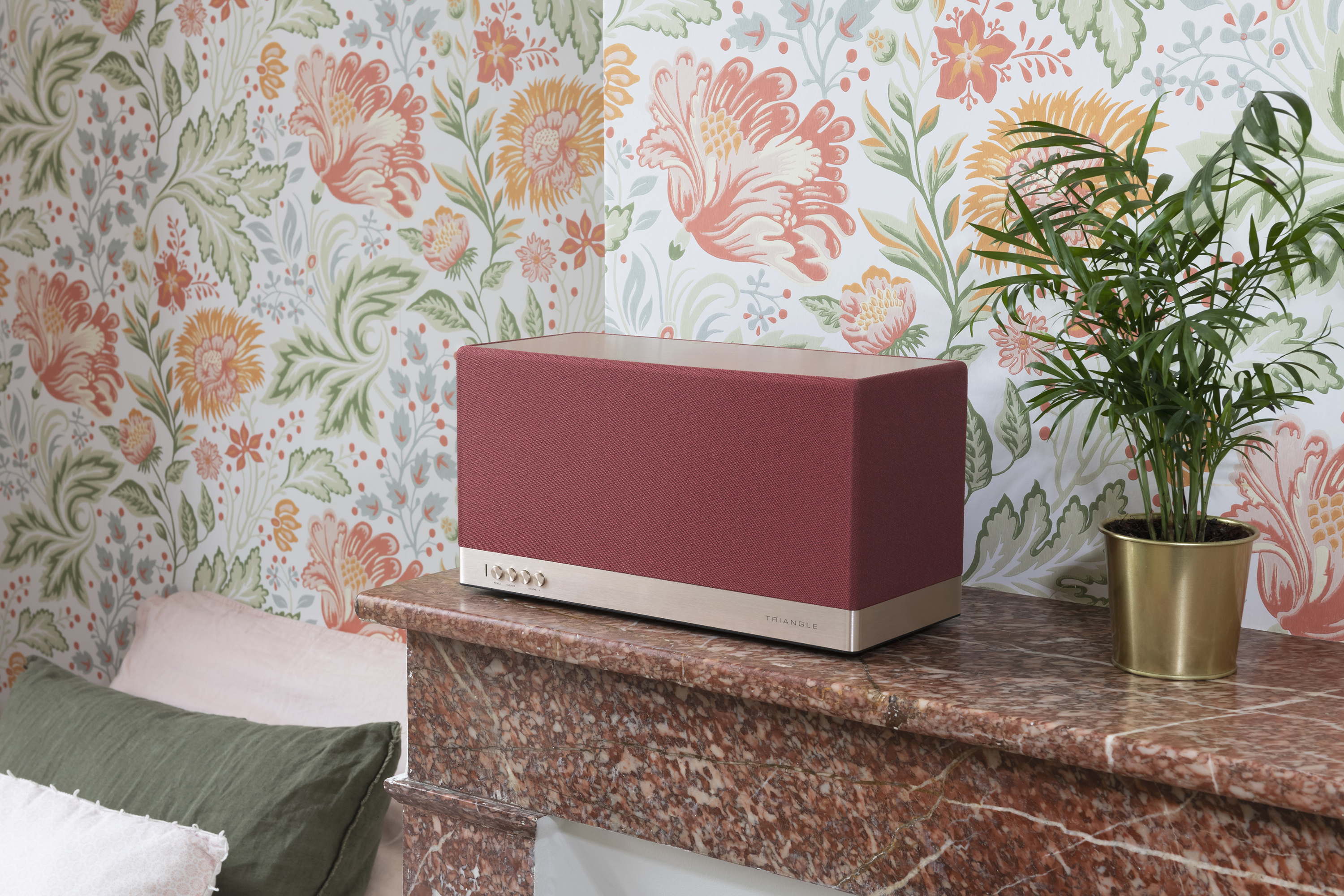 Finding the perfect balance of compact and minimalist design and musical power; ​ the AIO3 from French Audio Experts, Triangle, is an ideal choice for any room in the house. Equipped with Bluetooth and WiFi technology, the AIO3 can stream music from any device and is compatible with iOS, Android, Windows and Mac. With multiroom configuration, multiple AIO3 devices can be linked for broadcasting music throughout your home. Triangle has partnered with Danish brand Gabriel to manufacture speaker finishes and has helped to create a stunning yet neutral Scandinavian-style finishes (with new colours now available) making the speaker a beautiful addition to any room.

Style and Sound
The AIO3 is a versatile wireless speaker, compatible with many devices including iOS, Android, Windows and Mac. Connect via Bluetooth or Wifi from your phone, tablet, or computer as well as inputs available for plug-in sources via the optical, 3.5mm mini jack and USB-A connectors at the back of the unit.
Each speaker built by Triangle has their primary philosophy in mind, you should "feel the music so intensively, as if you were at the heart of the concert". The AIO3 is no exception to this, each unit is ​ built from a wooden box enclosure fitted with two 25mm silk dome tweeters and two 10cm mid-woofers. This specific 2×2 configuration presents a huge level of detail across the stereo spectrum with true clarity and excellent bass focus thanks to the unit's rear vent port.
New and improved for 2022
4 New Colours : The 2022 limited edition features 4 new finishes, Powder Pink, Frost White, Green Forest and Red Ocher
EQ : A new EQ feature is now available on the TRIANGLE AIO app. You will be able to adjust the bass and treble of all the AIO speakers connected to the networks, directly from your phone. Set the depth and accuracy of the treble to suit your mood and the acoustics of your room to fully enjoy your music.
Amazon Music : Amazon Music is now integrated into the AIO app, thus expanding the range of supported streaming platforms. In addition to Deezer, Spotify, Tidal, Qobuz and TuneIn, Amazon Music now completes the wireless and HD music streaming catalogue.
OTA Update : The AIO3 2022 Edition* integrates OTA-certified "Over The Air" automatic updates. It allows you to implement the latest features and patches of the AIO app automatically and easily without manipulation.
*Owners of older generation speakers can also access this update via a simple and quick process, detailed on the Triangle website: http://www.trianglehifi.com
The AIO3 Active Speaker is now available in 10 finishes, 4 of which are brand new: Powder Pink, Frost White, Green Forest and Red Ocher. Other finishes include: Slate Black, Mustard Yellow, Lime Green, Granite Grey, Emerald Blue and Arctic Blue. All are available for purchase at £409 from SCV.