Victrola's Premiere V1 is a premium all-in-one vinyl system
Today marks a new era for vinyl enthusiasts that seek a beautiful, superior sounding record player music system with elegant design simplicity as Victrola, a leading manufacturer of turntables for more than 100 years, launched its line of Premiere music systems.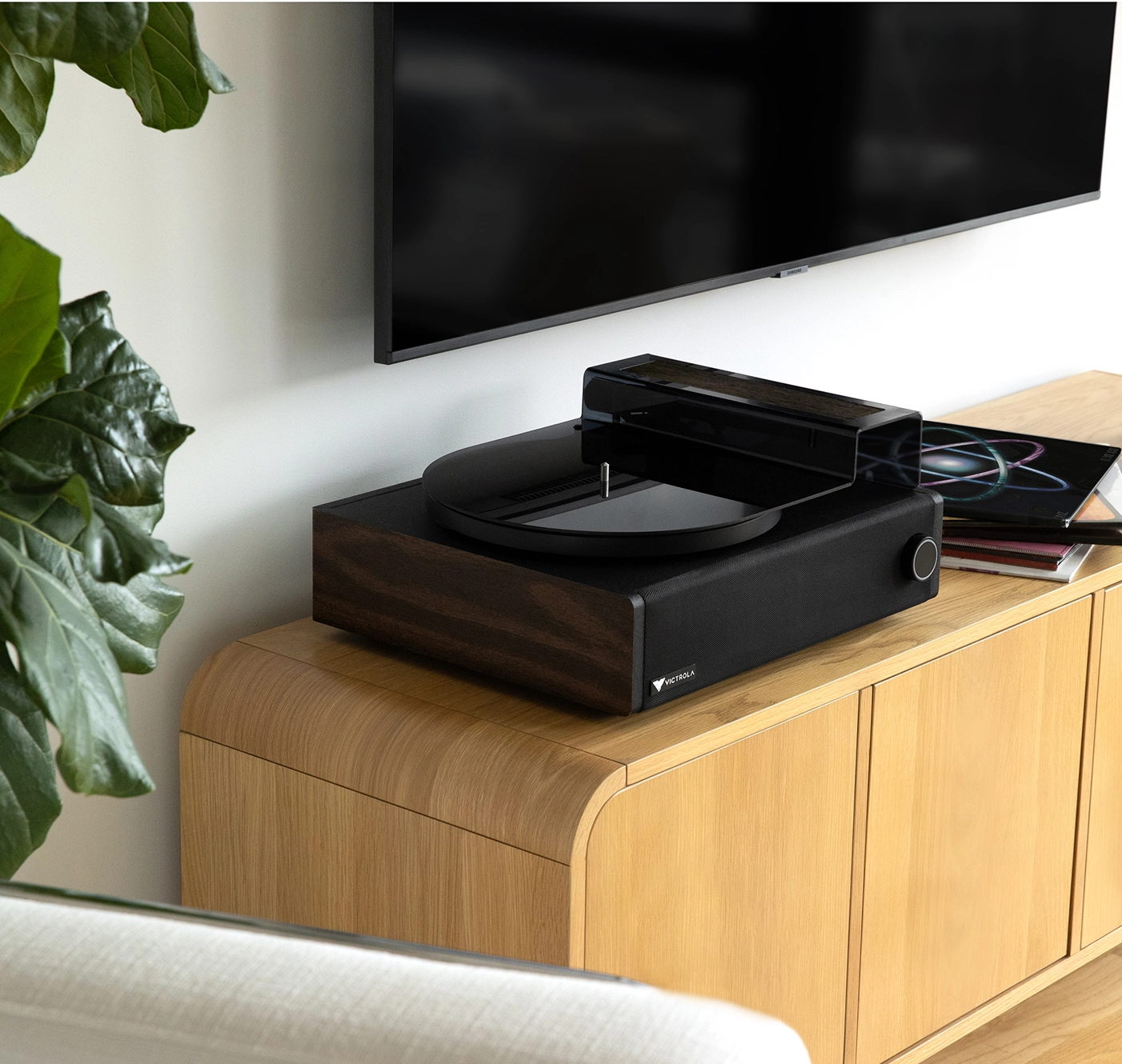 Adorned with a reimagined logo honoring the historical origins of Victrola and vinyl alike, Victrola Premiere and its flagship V1 Music System—reinforce the company's commitment to create lifelong music memories in every home by redefining the capabilities of an all-in-one music system.
With a user-friendly interface and first-of-its-kind features, each item in the Premiere line exudes luxury, simple setup and high performance with every spin of a record, streaming of a song or even your TV's audio.
The V1 music system meets listeners' needs for a stereo quality audio system within anall-in-one, high-performance turntable with internal stereo speakers. A signature illuminated dialenables simplistic selection of inputs for easy user interaction. Users can crank up the volumeon the illuminated knob to experience rich bass and clear highs on their favorite songs with nodisturbances or needle skips—thanks to the patent pending anti-vibration technology and theincluded S1 wireless subwoofer creating an impactful, visceral audio experience. As a completesystem, V1 is compact and easy to set up in the comfort of your home, requiring only a single button to pair and begin creating music memories in your home.
"Victrola Premiere is a step above what one normally sees in our current product line, and withthe V1 system, we feel we've truly gone back to our roots of being innovators of the vinyllistening experience," says Scott Hagen, CEO of Victrola. "The detail that went into developingour new V1 music system represents a new era of vinyl listening that Victrola is gladly leadingthe charge on. This is a system we're proud to hang our hat on and one that will redefine the all-in-one turntable category."
Key Features
Premium 2-Way, internal stereo speaker system producing incredible sound reproduction
Patent-pending anti-vibration belt drive system allows your records to be played crisp and clear at high-volumes without distortion from speaker vibration
Metal platter with silicone slip mat protects your vinyl and will last for years to come
Powerful 6.5" wireless front-firing subwoofer
Multi-function, illuminated control knob with built in voice confirmation
Metal tonearm with adjustable counterweight and anti-skate features to protect your records
Multi-function metal remote control for easy volume and source control from anywhere in the room
Vinyl StreamTM technology allows you to stream your record to any external Bluetooth speaker
The V1 is available now at £399.