FiiO announce the Portable KA13 Headphone DAC, and K11 Desktop Headphone Amplifier
Launching in October, these affordable DACs feature Single-ended and Balanced outputs, USB-C inputs for iPhone 15, and support for 32-bit/384kHz & native DSD256 Hi-Res audio
The new KA13 Portable Headphone DAC/Amplifier and K11 Desktop Headphone DAC/Amplifier build upon the success of an award-winning range of portable audio equipment from FiiO, including the recently launched FT3 headphones, the M15S Digital Audio Player, and R7 Music Streamer.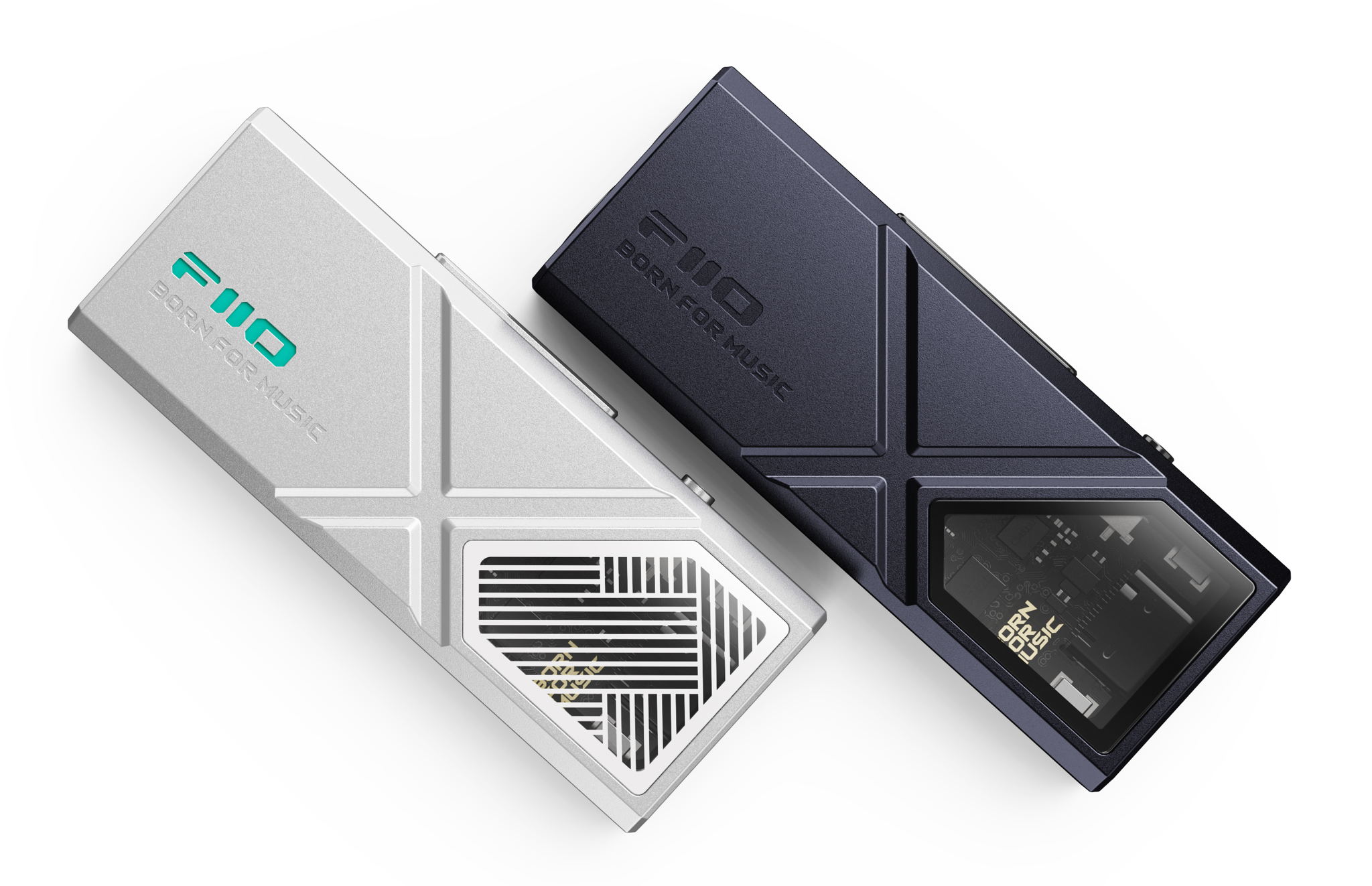 The FiiO KA13 is a compact yet powerful portable USB Headphone DAC/Amplifier. Utilising dual CS43131 32-bit DACs and 8262 Op-Amps, it delivers full support for 32-bit/384kHz and native DSD256 Hi-Res audio files.
Despite the KA13's portable size (a mere 56.3 x 22 x 10.5mm), to deliver maximum flexibility, FiiO's engineers have managed to incorporate both Single-ended (3.5 mm) and Balanced (4.4 mm) headphone outputs into slender frame. The 3.5mm output also supports SPDIF output.
The FiiO KA13 offers an excellent solution for a wide range of sources, including Android, iOS, PCs and more. Alongside the KA13 delivering a powerful sound whilst on the go with mobile sources, it also features a 'Desktop Mode' which can be manually selected to increase the power output to an impressive 550mW.
Available in black and silver, the KA13's sleek metallic chassis features an ambient light window which changes colour to easily show the quality of the audio file being played: PCM ≤48kHz will display light blue, PCM >48kHz will display yellow, whilst DSD displays green. The KA13 works with the FiiO Control media app for Android and iOS allowing settings such as Gain, Filter, SPDIF Output, Ambient Lights to be easily adjusted according to preference.
The FiiO KA13 will be available from October, priced £69, $79, €74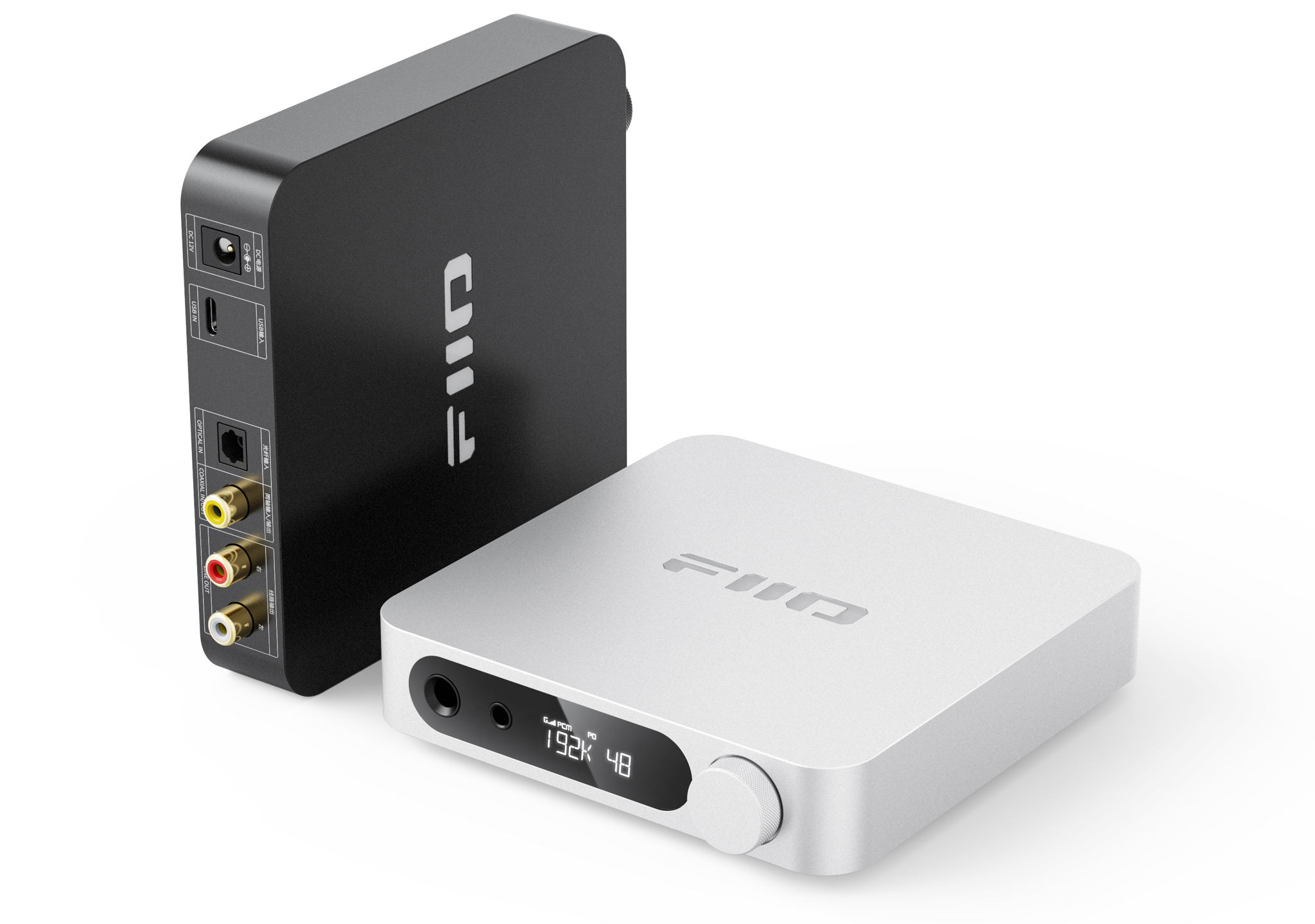 The FiiO K11 Desktop DAC/Amplifier is a versatile low profile Desktop Headphone DAC and Amplifier. With multiple inputs — including USB-Type C, Optical and Coaxial — as well as RCA stereo line-out, the K11 also features a 1.1-inch VA display which can display information about the audio file being listened to.
When used in USB DAC mode, the FiiO K11 does not require a driver for Windows 10 and above. It can also be used with video game consoles such as the PS5 or Switch.
The K11's multi-function volume knob allows total control of the unit. Power the device on and off; access the menu; adjust volume, and more. Users can also quickly switch between Line Out (LO)/Power Out (PO) modes by simply double-pressing the knob. To avoid unecessary readjusting of volume when switching between LO/PO modes, the FiiO K11 remembers the last volume set of both.
Available in either Obsidian Black or Midnight Silver, featuring both single-ended (6.35mm) and balanced (4.4mm) headphone connections, the K11 is powered by a CS43198 DAC chip and features full support for 32-bit/384kHz and native DSD256 Hi-Res audio files. Despite its relatively small footprint — just 147 x 133 x 32.3 mm, weighing in at 407 g — FiiO has engineered the compact K11 to deliver a power output of up to 1400mW.
The FiiO K11 will be available from October, priced: £119, €139, $129
FiiO KA13 Key Features:
DAC Chip: CS43131 x 2
Op-Amp Chip: SGM8262 x 2
Hi-Res Support: Up to 384kHz / 32-Bit & DSD256
USB Connector: Type-C (USB 2.0)
Ambient Light Window
Dimensions: 56.3 x 22 x 10.5 mm
Weight: 18.5g (excluding cable)
Output Power (3.5mm Single-ended): 170mW + 170mW
Output Power (4.4mm Balanced): 550mW + 550mW
USB-C to USB-C Cable Included: Yes
USB-C to Lightning Cable Included: Yes
USB-C to USB-A Adaptor Included: Yes
FiiO K11 Key Features:
Main Chip : GD32F303RET6
DAC Chip: CS43198
Hi-Res Support: Up to 384kHz / 32-bit
DSD Support: Yes. DSD256 Hardware Decoding
Inputs: 1 x USB Type-C (USB2.0) / 1 x Coaxial / 1 x Optical
Outputs: 1 x 6.35 mm Single-ended / 1 x 4.4 mm Balanced / 1 x L/R RCA / 1 x Coaxial
Balanced Load: 32Ω
Output Power: Up to 1400mW + 1400mW
Line Out (LO) Mode: Yes
Power Out (PO) Mode: Yes
Screen: 1.1-inch VA Segment Display
Dimensions: 147 x 133 x 32.3 mm
Weight: 407g (Excluding Power Adaptor)
Adjustable RGB Logo Lighting
Colours: Obsidian Black, Midnight Silver
FiiO KA13 IMAGE DOWNLOADS:
FiiO K11 IMAGE DOWNLOADS: